THE EXHIBITION
The magic of Le Mans is something no other race can emulate.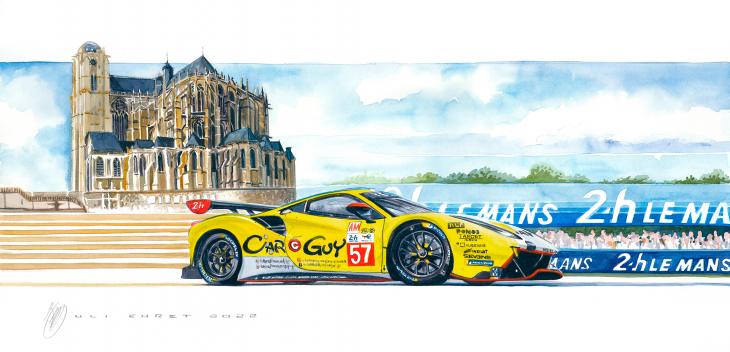 The exhibition "One Hundred Years of the 24 Hours of Le Mans" celebrates a century of motorsport history and highlights the most exciting moments of the world's most prestigious race. We bring you closer to the fascination and history of the long-distance classic and let you experience the race full of excitement, adrenaline and unforgettable moments. Breathtaking photographs and images, historical documents and personal stories will captivate you.
We present major vehicles, grouped by decade, in racing groups on a specially installed "race track". In the midst of the 3,000 m² exhibition, 40 columns suspended from the ceiling tell exciting stories from the 100 years of the "Grand Prix d'Endurance" through photographs, paintings and texts. The exhibition is decorated with oversized banners showing watercolours by Le Mans enthusiast Uli Ehret and historical photographs of racing scenes that capture the atmosphere of the race through day and night.
Highlights include the legendary Ford GT 40, the futuristic Porsche 919 Hybrid, the fast Toyota GTOne, and the original winning car from 1926: the Lorraine Dietrich B3-6.